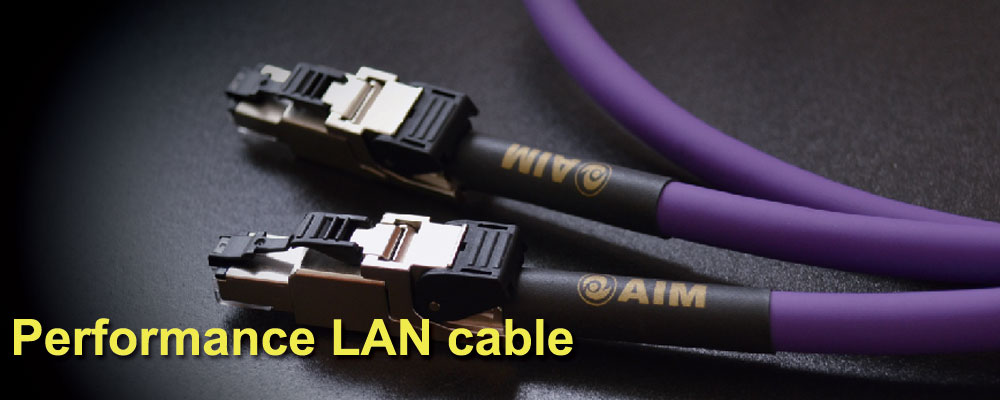 Features
The Electromagnetic Interference absorbing material (ferrite sheath TOMY), which is also used in the flagship model, is also used in the cable sheath.
Noise control in a wide range of bandwidths is achieved by using a high-performance aluminum shield and high-performance copper braided shield.
A new cable that complies with Cat 7 standard was developed to pursue the limits of sound quality.

Specifications
| | |
| --- | --- |
| Connector | 8P8C Modular connector(RJ45) |
| Connector Size | W13.8mm x H51.2mm x D16.2mm |
| Connector Structure | Hard polycarbonate housing and zinc die cast nickel plating |
| Standard | Compliant with ANSI/TIA/EIA-568-A,B & IEC 60603-7-5 |
| Outside Diameter | 9Φ(mm) |
| Cable Color | Purple |
| Conductor | Single wire AWG24 |
| Number of conductor | Twisted Pair x 4(8) |
| Shield Structure | OFC(high pure oxygen-free copper) |
| Shield | Double foamed sheath |
| Drain Wire | Asymmetric |

*The Cat 7 standard does not cover cables with RJ45 connectors. The connectors applicable to Category 7 officially defined in ISO/IEC 11801 are not RJ45 type cables but TERA, ARJ 45, GG45, and other types of cables compliant with IEC 60603-7-7 and IEC 61076-3-104 standards. The specifications listed in our documents are based on correct standard information. The cable complies with Cat 7, and as a cable with RJ45 connectors at both ends, this product complies with the Cat 6A, which is the highest level in the standard.
Example of Ferrite Sheath TOMY Performance in the Product
To remove both the radiation noise generated from the cable and external noise from the outside, the material demonstrates excellent EMI shielding performance in acoustic spaces.
Characteristics of ferrite sheath TOMY
[High noise reduction effect] Especially effective for reducing noise
The longer the cable, the higher the performance gain
[Retaining signal quality] No effect on signal current
No loss of flexibility of the cable
Drain Wire: Asymmetric Structure
Thanks to the asymmetric design with which the drain wires of the end connectors are asymmetrically installed (one is ground while the other is not), the cable can be connected in the orientation best suited for individual devices.

Product Lineup
| Model Number | Length |
| --- | --- |
| NA5-005 | 0.5m |
| NA5-010 | 1m |
| NA5-015 | 1.5m |
| NA5-020 | 2m |
| NA5-030 | 3m |
| NA5-050 | 5m |