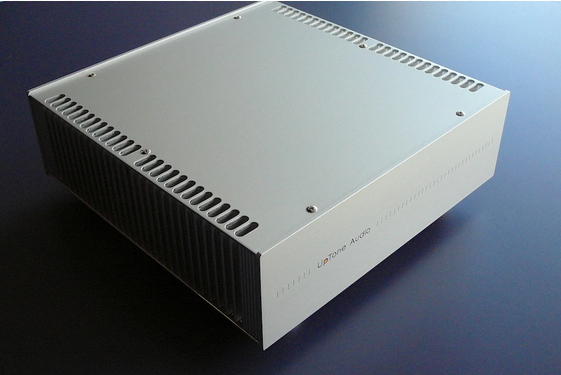 Dual-output, choke-filtered linear power supply with four user-selectable DC output voltages.  
Two independently adjustable, separately regulated outputs; Voltage choices are user set from the back panel: 5V, 7V, 9V, or 12V.
Guaranteed current capability is 5 amps continuous from either output at any voltage setting.  
(Up to 7.0 amps split between outputs, depending upon DC voltage combination; Instantaneous capability of up to 10A).
User configurable for worldwide operation at 100/120/220/230/240 volts AC.
Dimensions: 9.0 inches wide x 9.1 inches deep x 3.3 inches tall (with feet).
Weight: 10.5 pounds; 14 pounds in its full double-box shipping cartons (shipping dimensions 14"x14"x9").
Warranty: 3-year parts and labor (excludes shipping costs after 90 days).
Made in U.S.A.   Shipping anywhere in the world via Express Mail Intl. (EMS) or FedEx (custom-quoted deep discount rates by country; often less than than postal, plus faster and more secure).
Includes:
1 custom 5-foot DC cable. This special cable is a shielded, star-quad with 4 conductors of tinned, stranded 18AWG; paired at the connector that makes it about a heavy 15AWG.  Gold/copper/brass Oyaide (5.5mm x 2.5mm) DC barrel plugs from Japan at both ends. Upon request we can terminate one end with a 2.1mm version of the Oyaide connector in case you need that size at the device end.