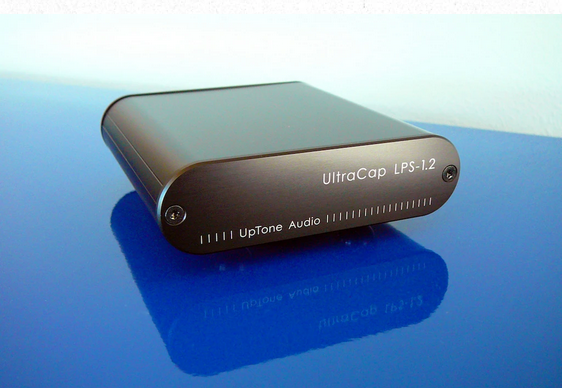 In development for more than a year, and with 262 parts on the double-sided, 4-layer circuit board, this tour de force of engineering challenges traditional notions about what is important in power supply design.
Use of the UltraCap™ LPS-1.2 in a quality music reproduction system will yield surprisingly audible improvements, and we invite comparisons to any other low voltage linear power supply.
The LPS-1.2 is a single output, 1.1-amp linear power supply intended for powering a wide range of audio and computer devices.  Examples include: UpTone's own ISO REGEN, the Sonore microRendu and ultraRendu, SOtM streamers, small DACs and headphone amps, USB>S/PDIF converters, specialty computer USB cards, SSDs, fibre media converters, PS Audio LANRover, SqueezeBox Touch, etc.
A switch on the back of the LPS-1.2 allows for setting of the output voltage to 5V, 7V, 9V, or 12 volts. The input and output jacks of the LPS-1 are standard 5.5mm x 2.1mm size DC barrel connectors.
The dimensions of the LPS-1.2 are: 110mm (4.33 inches) wide x 112mm (4.41 inches) deep x 30mm  (1.18 inches) tall; Add 6.5mm (0.26 inches) for included rubber feet.
Included with the LPS-1.2:
A 70cm, 16awg, DC cable with 5.5mm x 2.1mm plugs at both ends (correct for our REGENs, the Sonore Rendus, and many other popular devices which use that size).

A custom 7.5V/4.8A/36W world-voltage-compatible tabletop SMPS for "energizing" the UltraCap™ LPS-1.2, along with a 45cm AC power cable (standard IEC plug one end, USA wall plug at the other—international buyers can cut and put a local plug on or just use any standard power cord).
The UltraCap™ LPS-1.2 is backed by a 3-year warranty.
An LED at the back of the LPS-1.2 changes color (red/amber/green) based on the status of the supply.  The programming of its 4096 logic-element FPGA controls and protects every aspect of its operation to assure safe and reliable performance.
There has never been a power supply like this before!  The UltraCap LPS-1.2 will elevate the performance of whatever component you power with it.